Release Notes Overview
Release 2020 B is now live and the star of the show this month is Website Tools, which is now in Controlled Availability! This new product extends PathFactory's campaign-based journey orchestration using Content Tracks and Explore Pages to the website by providing an always-on nurture capability across all of your webpages automatically. You can think of it as a way to seamlessly move website visitors between web pages and content assets in a frictionless journey, tailored to them.
Combining the power of a new AI-based content Recommendation Service, with Website Journey Tracking, a brand new Website Content Promoter called Guide, and a Personalized Resource Center called Concierge, you'll be able to provide a seamless customer journey for web visitors and get a more in-depth Visitor and Account engagement profile to help you accelerate the customer journey.
| | |
| --- | --- |
| Note | If you would like to learn more about Website Tools or want to be a candidate for the Controlled Availability program, please contact your Customer Success Manager. |
We've also made enhancements to PathFactory for Sales and to our Content Track SEO settings.
---
Updates to PathFactory For Sales
Account Searches
Previously PathFactory for Sales users needed to configure filters every time they visited the dashboard. To save them a ton of time, now you can save Account List Views (a collection of filter settings) in the Insights tab in PathFactory for Sales. Filtering options on the left are now a drop-down menu where you can choose views, and add filters. Having these preset filter settings allows users to quickly get access to the views and information they need. Admins will be able to create a view that every sales user sees, and other users can create their own views that they can save and reference again. This makes rolling PathFactory for Sales out to your sales team even easier because they have preset views configured by an admin.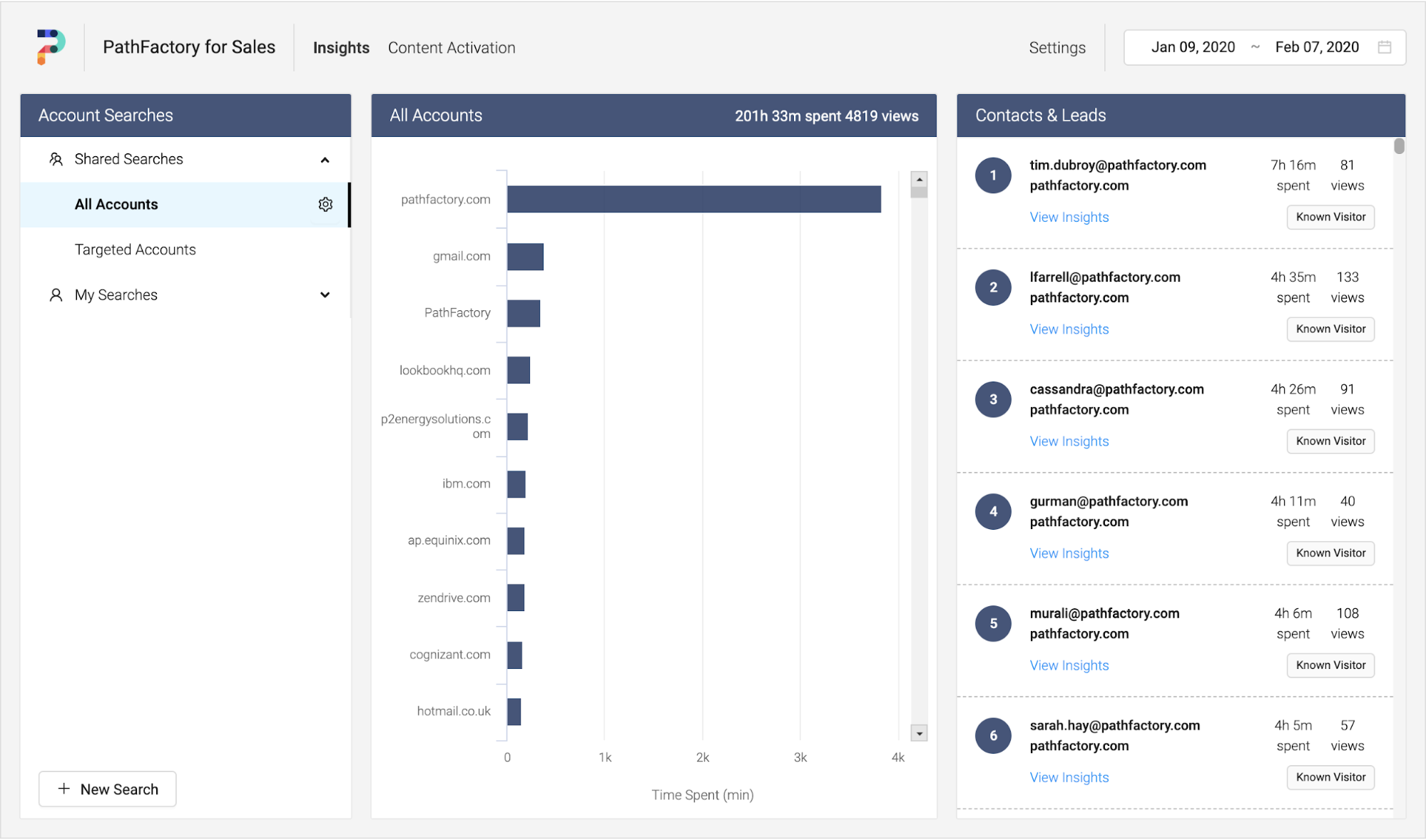 | | |
| --- | --- |
| Note | Click here to learn more about how to set up and use Account Searches in PathFactory for Sales. |
Filter By Topic
We've added the ability to filter by topic to see which people have engaged with content about a specific topic.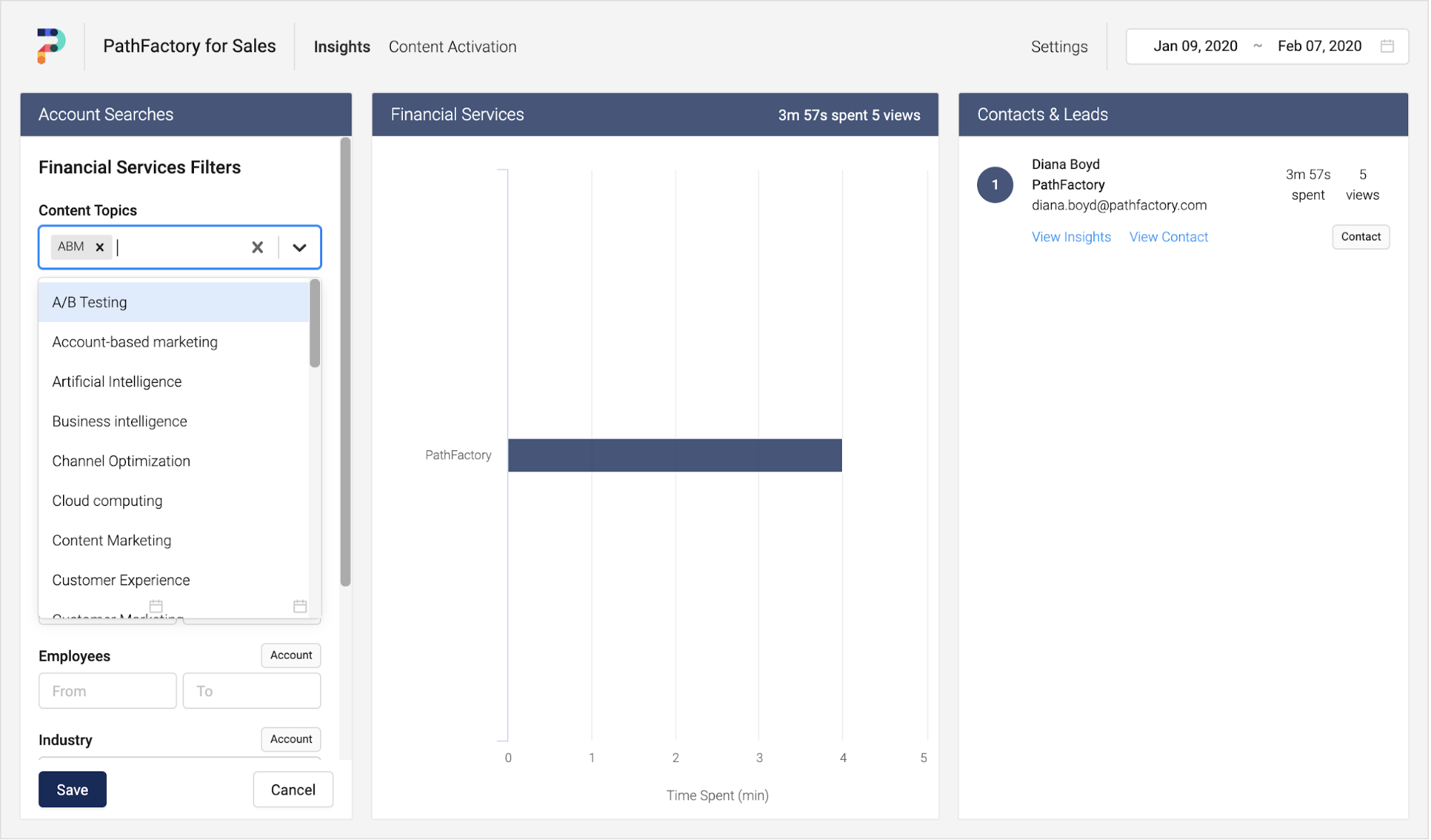 More SEO Options in Content Tracks
The "Meta Tag" setting on Content Tracks has been renamed "Search Engine Directive", since it'll now provide more options, such as No Index, No Follow, and canonical link tags. The default setting for every new Content Track will be configured with a "No Index, Follow" search engine directive, so that Content Tracks will not be indexed by search engines unless you specifically opt for that functionality on a specific track.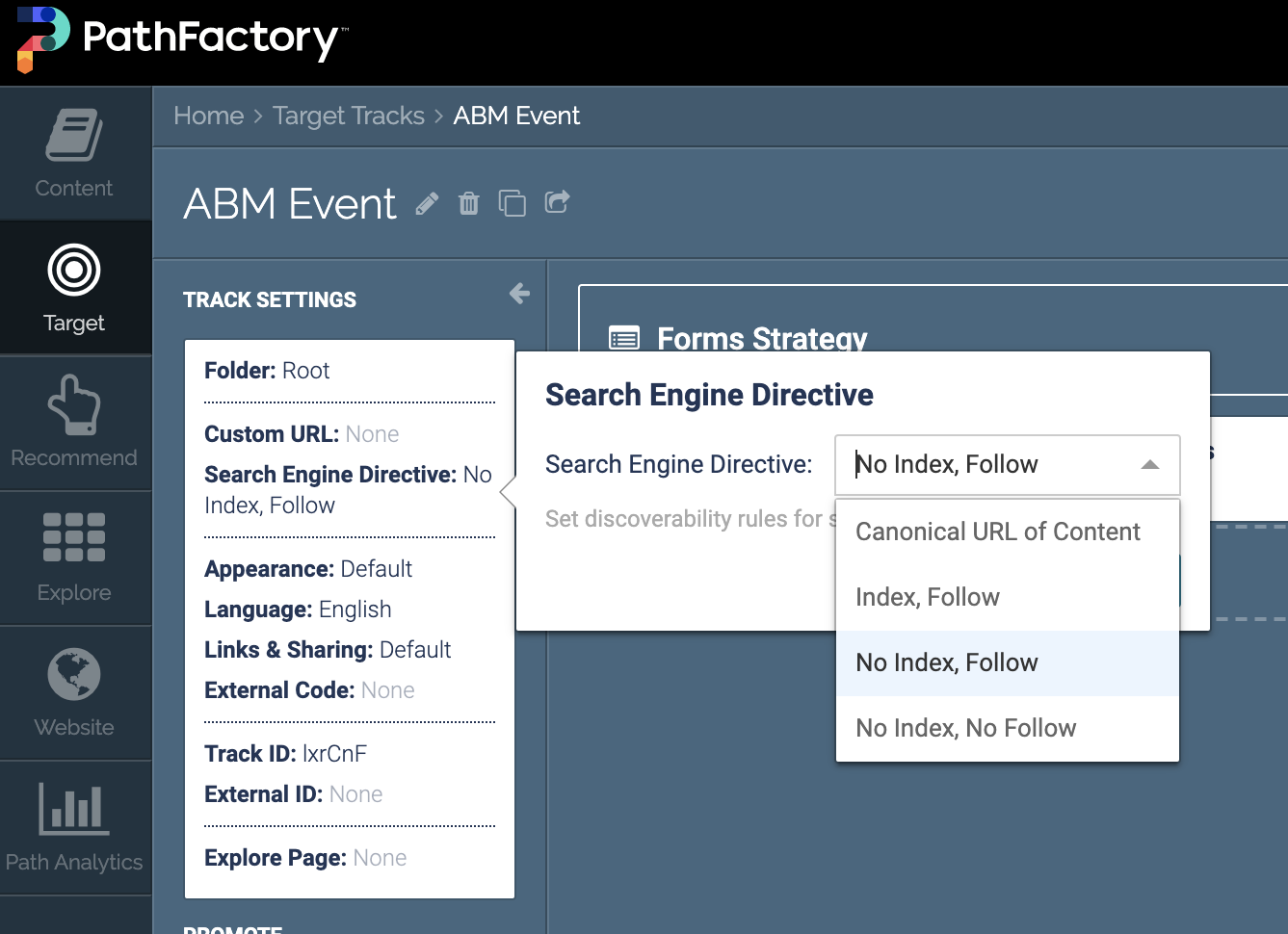 Update the "Views to Content" and "Engagement Time" charts on PathAnalytics' Reports
We have changed the visualization of the "Views to Content" and the "Engagement Time" charts to bar chart vertically oriented. Both charts show the first content asset vs the Incremental content asset views inside the content track.
The two boxes below these charts show the increasing percentage of views for the fist content in Content Track.