Guide and Concierge are a feature within Website Tools. These components are turnkey user interface elements you can add to any of your webpages. Each component displays content recommendations generated by PathFactory's Recommendation Service, or user-selected featured content.
Each component displays the contents' title and accompanying thumbnail. The thumbnail is populated by the image that is defined in the 'og:image' tag on the content page. The og:image is typically a setting you can control in your website CMS (for example in most WordPress environments it is the featured image that is set for a page or post). If no image is defined, you can use a fallback thumbnail that is configured in the Appearance configuration.
Currently, you can add a maximum of one Guide component and an unlimited number of Concierge components to a single URL path. All components on the same path deliver content from the same content pool.
---
Guide
Guide is a standalone widget that appears on the bottom right corner of your website (though it can be repositioned along the right edge of the browser window), allowing website visitors to self-nurture. It's fed with recommendations that are 1:1 personalized to them by the PathFactory Recommendation Service.
Guide displays content on two tabs, For You and Trending. Each tab displays a maximum of 3 content assets.
You can add an optional CTA to Guide that triggers forms or redirects visitors to other pages.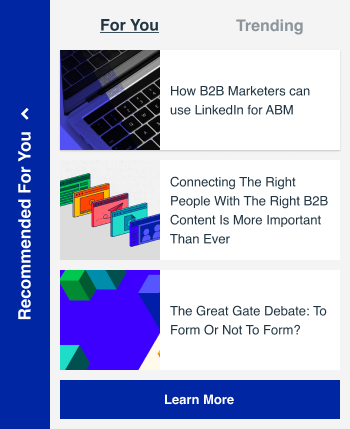 ---
Concierge
Concierge components are a series of up to 7 stacked carousels that are injected into webpage(s). They provide visitors with a series of content carousels, each representing a unique class of content recommendation.
You can also add multiple Concierge components to a page or path by using different target element IDs. There is no limit to the number of Concierge components you can create for a page or path.
Up to 10 pieces of content can be displayed per carousel. Marketers can choose which of the following carousels they wish to display:
Recommended For You: content is recommended to the specific visitor based on PathFactory's Recommendation Service.
Related Content: recommendations are related to the page on which Concierge appears.
Recently Visited: visitors are presented with content they visited in the last 30 minutes. Content is ordered from most recently viewed to least recent.
Featured: content you manually select is promoted to all visitors.
Trending: as opposed to other website widgets which surface content that is trending, these versions of trending are designed with B2B in mind. Content is surfaced based on what is most deeply engaged with across website visitors in the following parameters:

Website: within your website property
Region: the visitor's state or province
Industry: the visitor's industry
Account: the visitor's account