Ok be honest… how many times this year have you written 2021 and then had to cross it out?
Happy New Year from all of us at PathFactory! We're excited for new possibilities and of course, a new release! Our first release of 2022 comes packed with helpful features for you to take advantage of. Leverage a mix of content pools for your different web carousels, enhance your governance strategy with view-only permissions, ensure zero broken links with redirects, and more!
Core Platform
NEW:
View-only user role permissions
View-only permissions are available across the entire platform and allow you to further enhance your governance practices with PathFactory! Give your marketing or sales team members access to see what content is available or review settings for your various experiences without allowing them to create, edit, or delete anything. This lets you increase visibility around elements such as content attributes, form strategies, appearance configurations, and more while still ensuring version control.
To apply view-only permissions, simply navigate to any custom user role in the User Management section and the new View checkbox option will be available within each function of the user role.
View-only permissions can be applied to existing users with custom roles that are part of your current marketing license package. If you're interested in rolling out view-only permissions more broadly across your organization, reach out to your CSM to discuss additional marketing licenses.
Set redirects for both content slugs and experience URLs
This feature has been a long-time request from many of our customers and we are thrilled for this to be live. Users are now able to define redirect rules to direct traffic from one set of locations to another.
In the past, if you ever changed a content asset slug or experience URL after it was publicly shared, your existing links became invalid and your visitors reached an error page. This new capability ensures no broken links will occur if changes to a content slug or experience URL need to be made. It also allows you to point visitors from one experience link to another. For example, if you have an existing Explore page that has been shared but you have built a new Microsite to replace it, visitors can now be automatically directed to the Microsite when they click on your Explore page link. Less broken links means better SEO.
Redirect rules are a separate permission within Administrative Controls. By default, no user has access to redirects. You must create or edit a custom role and enable redirect permissions to access this feature. Once enabled, navigate to Organization Settings and select the Redirect Rules tab. For more information on redirect rule settings, read Set up redirects for PathFactory URLs.

New Forms tab in Appearances
Maintain consistency with your branding & style elements. We've added a dedicated Forms tab in Appearances so you can apply the styling elements of your standard forms from one place to multiple areas more quickly and easily.
IMPROVED:
Automatic email notification for access protection CSV uploads
When you use CSV upload to add email addresses or domains to your access protection, it can take awhile to process depending on the size of your file. Now, you won't have to wonder if it's done or remember to go back and check. PathFactory Support will send you an email when it's finished or if any errors have occurred in the upload process. Take a break and grab that cup of coffee instead.
Campaign Tools
IMPROVED:
Bulk update Microsites with multi-select feature
We've made it easier to update the folders of multiple Microsites at once. No, it's not magic. By providing a multi-select capability within the Microsite Builder list view, when you edit the folder of any Microsite that is selected, it will update the folder location of all the selected Microsites. Product name change? Acquisition? Corporate rebrand? Marketing ops will thank you.

VEX
NEW:
Automatically register visitors for sessions with MAP lead ID query strings
At PathFactory we are all about removing friction for your visitors, including pesky forms that create another step in getting to the content they care about. With this new feature, if someone visits your virtual event session URL that has been shared over email, we will attempt to identify the visitor by the ID that is passed. This will occur if:
Your organization's instance has either an Eloqua or Marketo API integration enabled.
The applicable query string is applied on the session URL link in the email. This would include one of the following:

elqcontact (Eloqua contact ID)
marketo_lead_id (Marketo Lead ID)
lb_mid (Marketo Lead ID)
If the visitor has not been identified, the regular session landing page will load with the session information and form. If the visitor has been identified, it will count as a form submit in the session analytics and we will simulate the same behavior as when a session registration form is submitted:
If the session has not started, the title, image, countdown timer, and description will still show but the form will not be displayed.
If the session is in a live state or is on demand, the visitor will be automatically redirected to the live/on-demand session to begin viewing.
IMPROVED:
Bulk update VEX events with multi-select
Our multi-select capabilities have been carried through to our VEX event list view as well! Scroll up to Campaign Tools to read through the details. Again, marketing ops can save a lot of time.
Website Tools
NEW:
Show content descriptions on cards within Concierge carousels
Give your web visitors a deeper preview of your content to both entice them to click and help them find what they're interested in more easily.
To surface content descriptions on your Concierge carousels, navigate to the component configuration section of your website property. On each Concierge setting you'll see a new checkbox available to apply descriptions. Content descriptions will automatically populate from the meta description tag of the content asset saving you time as well.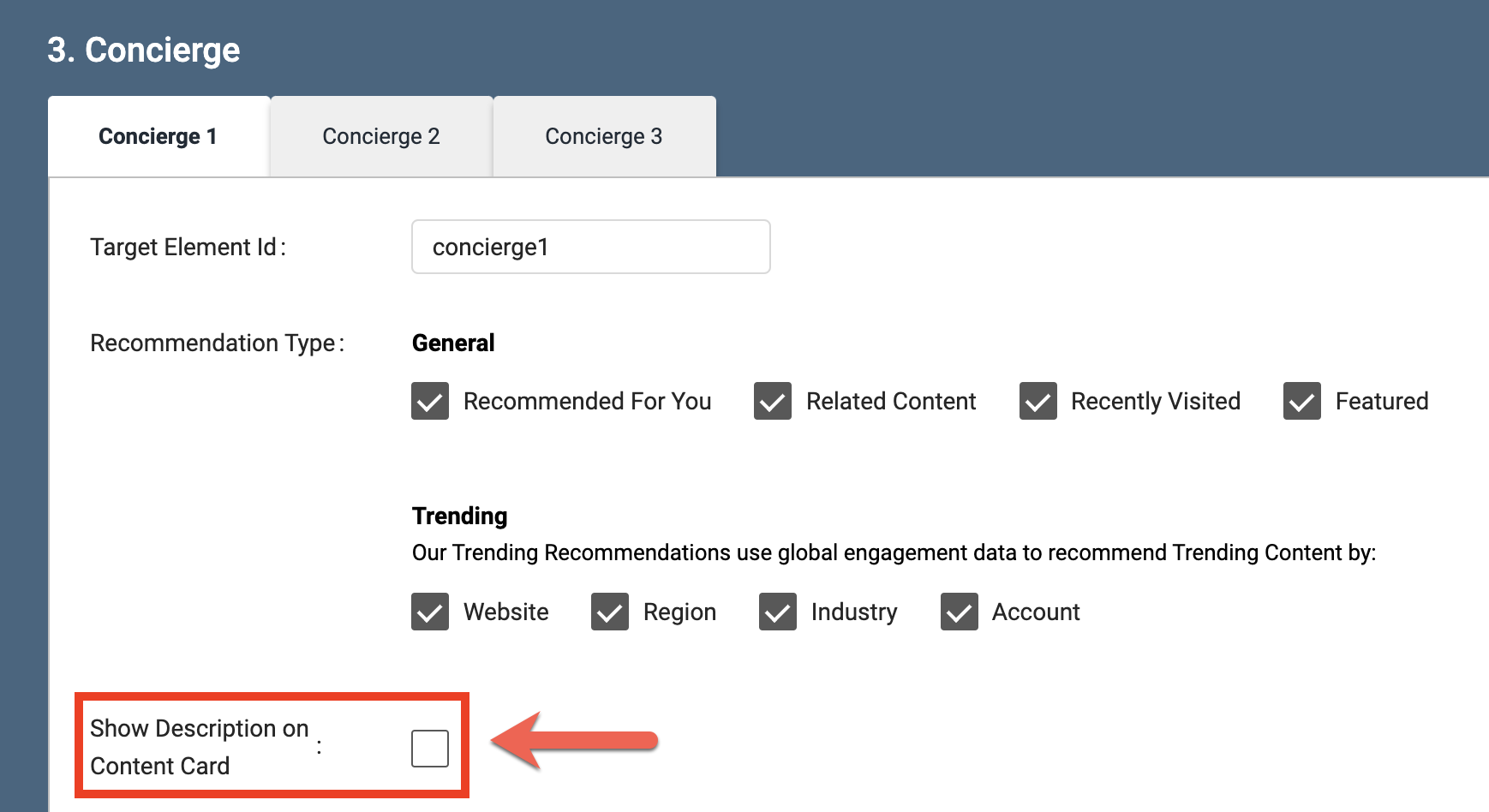 IMPROVED:
Use unique content pools for Guide and Concierge carousels
Variety is the spice of life. If you've ever wanted to mix-and-match content pools for Guide and Concierge, now you can. Whether you have three Concierge carousels and one Guide all on the same page (or any other combination), you can set each to pull from a different content pool. This increases your flexibility to serve relevant, targeted content to visitors at each stage of their navigation.
You'll now set a content pool for Guide and each Concierge carousel type (except for featured carousels which are manually curated). If you don't choose a content pool when creating a new component, it won't appear on your site.
For all existing Guide and Concierge components, don't worry, the content pool won't change unless you change it. If you want to update your existing components, here's how:
Navigate to Website Tools.
Find the website you wish to modify and select Manage.
Find the website path you wish to modify and select Edit.
Scroll down to the Guide and Concierge sections, select Content Pool, and choose your desired pool.
When you're done, scroll to the bottom and select Save.
Guide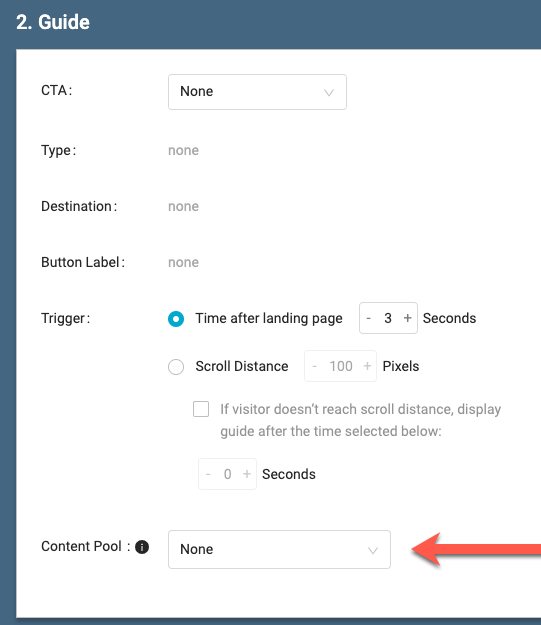 Concierge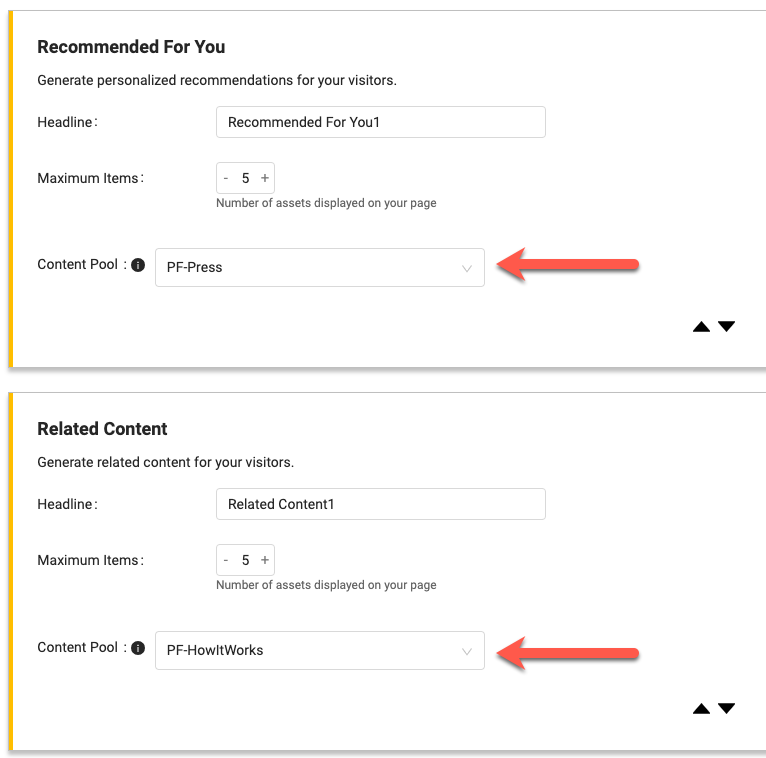 Content engagement to influence "Recommended for You" carousel without refresh
In an effort to further increase the accuracy of our Concierge "Recommended for You" carousel suggestions, our platform will now trigger an API call when the overlay is closed. This means that any content consumption your visitors have within the overlay before closing it will dynamically influence what is next displayed within the carousel without them having to refresh the webpage.
Path Analytics
NEW:
See how many visitors met your content engagement time thresholds
Assigning a time threshold to your content assets is a powerful way to assess the quality of engagement across your visitors. PathFactory assigns a default of 20 seconds for each content asset and a score of 1 (this can be customized within the Content Library).
Previously our reporting showed visitor data by cumulative engagement scores, but not by the simple element of meeting the threshold time. Now, you can easily see the number of visitors that met threshold times on assets, how many assets they completed this on, and exactly which assets where the threshold was met.
To access this new report, navigate to Path Analytics > Campaign Tools > Reports > Overview (located in the Track Insights section). The met threshold view is available at the bottom of the dashboard and you can drill into the asset volume bar graphs to review the individual asset names.
Analyze your returning content track visitors month over month
For Campaign Tools users, our Monthly Timeline dashboard now includes a new visualization that highlights the number of visitors returning to the same content track each month. You can drill into this data further by clicking on a specific month's data point to see the visitors' emails, account names, total number of sessions, and more.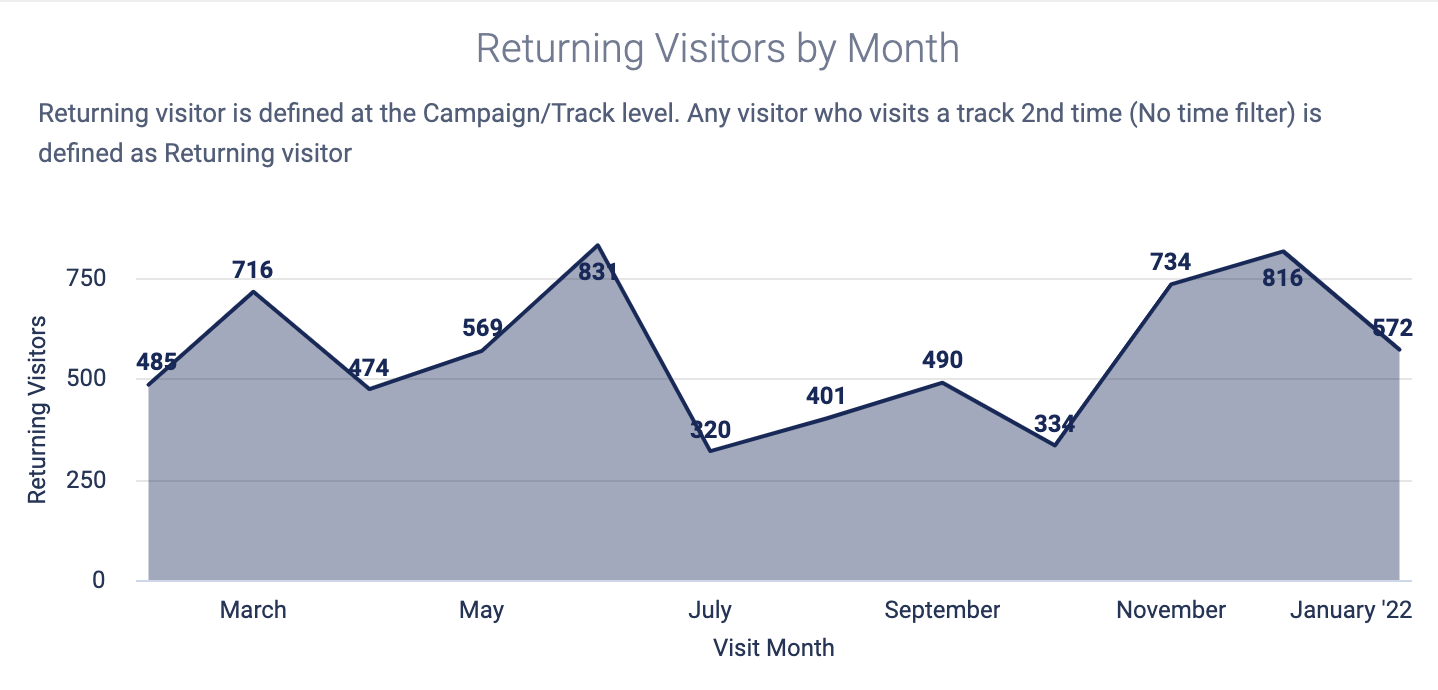 That's it for now…
Our latest features have only just scratched the surface of the major deliverables we have planned for 2022! We're buzzing with excitement and ready to wow you with what we have in store for this year. Watch this space!