Was it just us, or did you blink and then it was November? It's been a busy time here at PathFactory, and like the saying goes, it's better to be busy than bored! As we approach the end of the year it's also time to start thinking about what we want to focus on and improve in the new year. We've started early this season by adding increased options for privacy requirements and enabling marketing to be more compliant. Whether you're getting ready to make a big turkey dinner, or are enjoying the first hints of summer weather (color us jealous), this release has something for you. Dive in to see what's new from PathFactory.
Core Platform
NEW:
Reduce bot traffic appearing in your MAP and mitigate bad data
You now have more ways to filter out bot traffic to help ensure your data is accurate and high quality. Specify a minimum session time that must be met for data to pass to your marketing automation platform. You can set this minimum session time for activity and session webhooks by navigating to

Gear > Webhooks. Select an existing webhook; in the right sidebar, select Minimum Session Time and enter your desired time.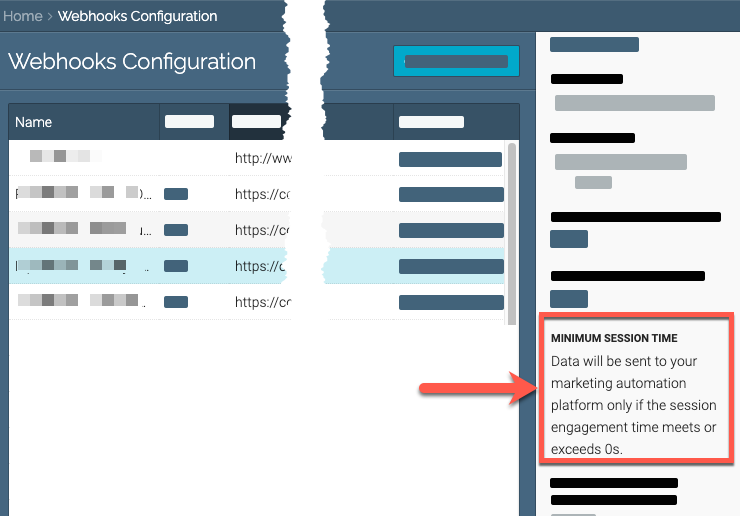 If you are a Marketo user, you can also set a minimum session time requirement for both your form submission and custom object exports. Navigate to Organization Settings and select the Marketo Account tab. Within the form submission or custom object export you want to update, select Edit and the minimum session time will be available to set in the edit modal.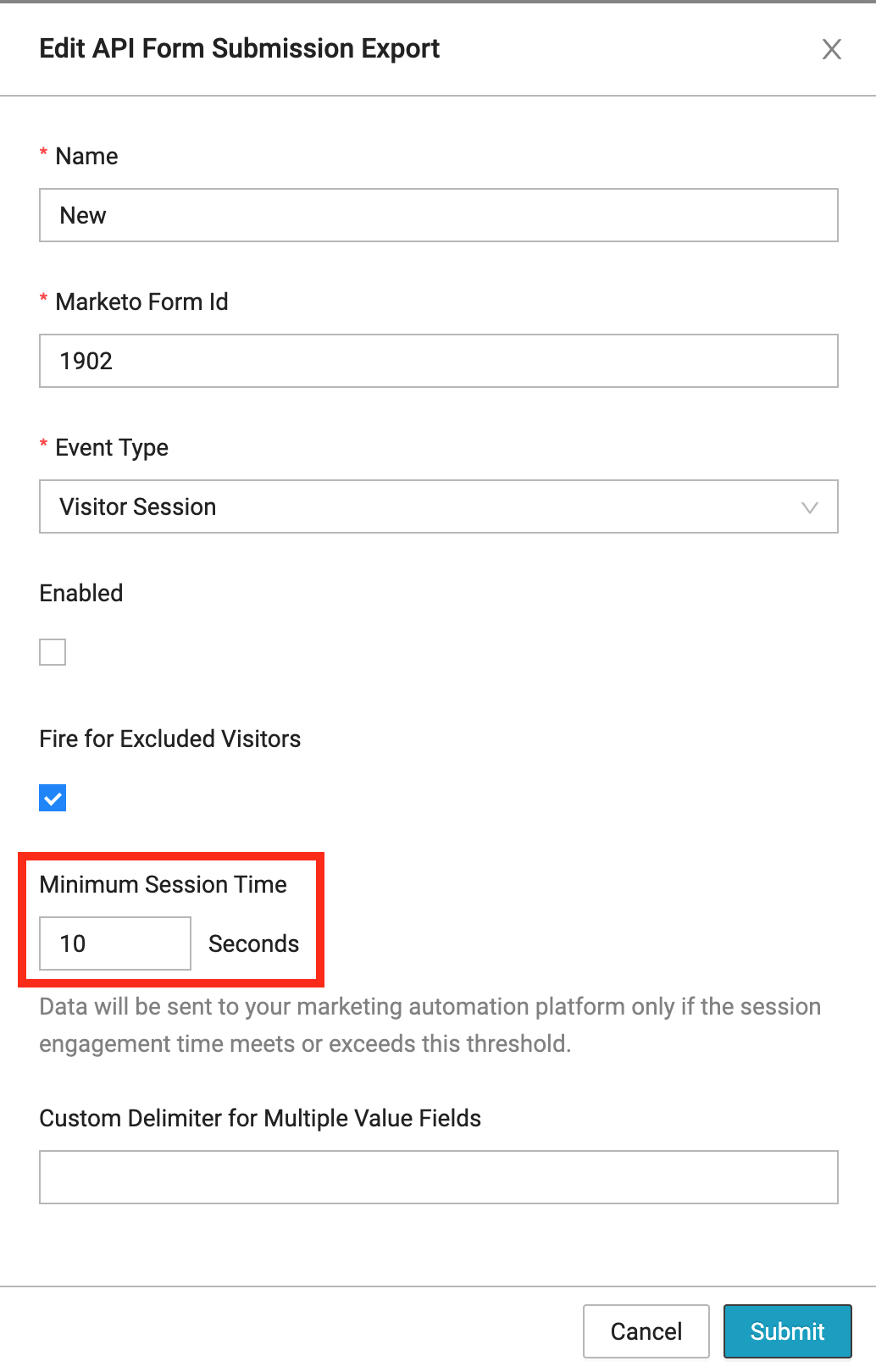 Better control of crawlers using robots.txt
You now have the option to edit your site's robots.txt file directly within your PathFactory instance. This is helpful if you're looking to add an extra layer of effectiveness against crawling in addition to the tags that get added when applying "No Index, No Follow" for your experience's search engine directive setting.
Navigate to Organization Settings > Settings. In the robots.txt field, you can enter your directives. To view the robots.txt file, add /robots.txt to the end of your PathFactory URL, as shown in the following image.
Default robots.txt file for your PathFactory experiences:

Eliminate tracking with strict cookie mode
In Organization Settings > Cookie Consent, you can enable strict cookie mode to remove anonymous tracking. When this option is selected, and cookie consent is enabled on a PathFactory experience through either a custom consent tool or our native consent tool, visitors to your experiences are asked for their consent to cookies. Until consent is given, we will not drop a permanent cookie or session cookie to track the visitor's behaviour. When strict mode is disabled however, a session cookie is placed that expires when the browser is closed.
Other scenarios to consider:
If strict mode is enabled at the Organization Settings level, but the consent tool is disabled for an experience, we will continue to set a permanent cookie and track the visitor
If strict mode is enabled and consent is provided early in a session but then a form is submitted with a consent checkbox unselected, we will assume the visitor declined consent and stop tracking by deleting the cookie.
If strict mode is not enabled and the consent tool is enabled on your experience, we will continue to apply a session cookie until consent is given by the visitor.
Search by custom URL slug
Wondering what we mean by slug? Although we love all creatures here at PathFactory, we don't mean those slimy little guys you might find in your garden. Instead, we're referring to the unique identifier element you can define for your experiences to improve your SEO and branding with relevant keywords versus an ID string.
External URL custom slug example

If you've ever forgotten the internal name of your experience and wished you could search by this slug, this update is for you! Easily find and manage your content tracks, Explore pages, Microsites, and VEX events within our application by using the experience slug in the search bar.
Upload YouTube videos with the embed link
When adding YouTube videos to the content library, you can now use the embed link in addition to the watch link option. Copy the embed link from YouTube, as shown in the following image, and paste it into the Website URL pane of the upload dialog.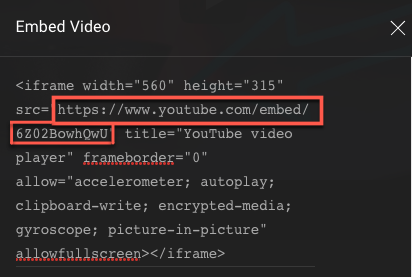 Embed Video code example
VEX
NEW:
Reverse proxy support for Virtual Events
Reverse proxies allow PathFactory customers to show their experiences on their parent domain rather than a subdomain. For example, if your company was ABC, today your event URLs might show up like this: abc.pathfactory.com/sample-event. Rather than use a custom subdomain like events.abc.com, a reverse proxy allows you to use a URL such as abc.com/sample-event.
This can be advantageous if your IT/security team will not whitelist the subdomain you are using with PathFactory. Choosing a reverse proxy to display the PathFactory experience on the root domain will be allowed by the content security policy, and will ensure the iframed web pages will work correctly.
It is also a good option if you want to seamlessly preserve some advanced technical functionality related to your website without having to modify it or create a dedicated version of it for the PathFactory custom subdomain. For example, you could have a script running on your website that creates a cookie on the root domain www.abc.com to perform a certain function. If you want that to be functional on PathFactory experiences, using a reserve proxy may allow that script/cookie to work across both the website and PathFactory experiences.
This feature is not configurable by end-users of PathFactory. If you wish to explore using a reverse proxy please contact your CSM for more information. Please note that you must have access to edit your DNS record to use a reverse proxy. For more information on using a reverse proxy, visit How do I set up a reverse proxy?
IMPROVED:
We're releasing a slew of small improvements to VEX that, together, add up to a better experience for your attendees!
Countdown clock for sessions
When selecting upcoming sessions, the session detail page now shows a countdown to when it starts. If the same session is scheduled multiple times, all the upcoming dates and times are also shown.
Maximize the interaction in a simulive session
Customers often set the length of their session to be longer than the actual simulive video length, so attendees and moderators can continue to engage in the chat for remaining questions and conversation. Previously, when simulive sessions reached the simulive video length, the session displayed a notification stating "this live video has ended" and the video player was disabled. For attendees who joined a session late and then rewound the video to catch up, they could never complete the video even if there was still time remaining in the session. We've improved this experience for you and your attendees.
Now our simulive video notification is tied to an attendee reaching the end of the video's progress bar. Furthermore, once an attendee reaches the end of a simulive video, they will still be able to engage with the playback options through any remaining session time to encourage as much interaction as possible.
Mobile UX improvements
On mobile, the small but mighty updates continue. First, an increased font size to improve readability for your attendees. Second, when an attendee engages with supplemental content, the video automatically pauses so they don't miss a thing. Finally, the play and pause buttons are now larger, making them easier to select.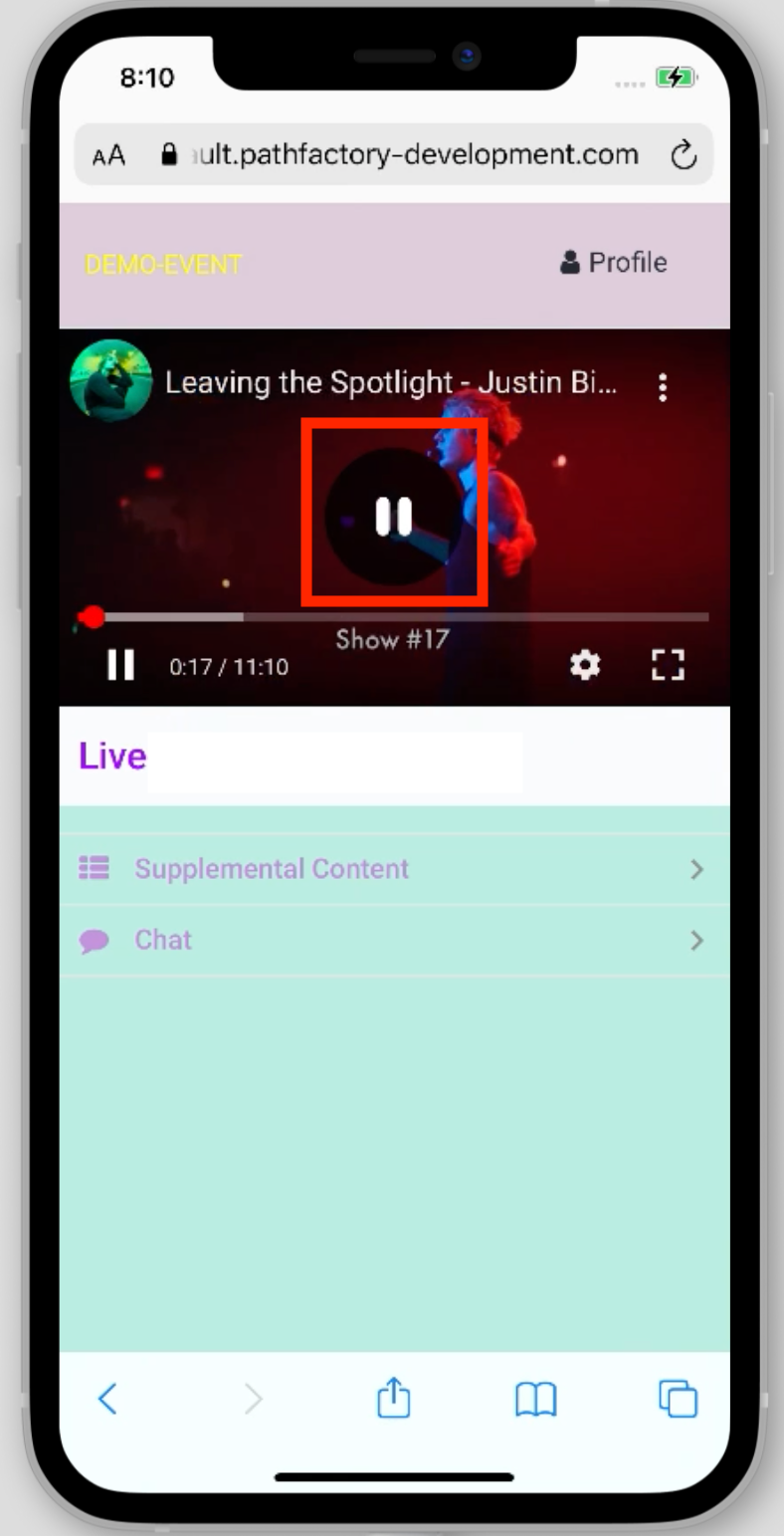 UX Improvements for mobile
PathFactory for Sales
IMPROVED:
More control over your data flow into PathFactory for Sales (Available on Nov 25, 2021)
You now have more ways to filter your data that appears in PathFactory for Sales to help ensure it is accurate and high quality. In Organization Settings, on the Sales Tools Configuration tab, there is a new sub-tab labelled Content Insights. Within this section you can:
Define whether excluded visitor data gets passed into PathFactory for Sales with the Fire for excluded visitors toggle. When this toggle is on, any email addresses, domains, or IPs that have been added to your platform exclusions will pass into PathFactory for Sales. This toggle will be set to ON by default, as previously your PathFactory for Sales insights tab on your account and contact pages in Salesforce included this traffic.
Define a minimum session time that needs to be met before a visitor's session data can be passed into PathFactory for Sales. This is a great way to limit the traffic volume to high-quality sessions as well as further remove bot traffic.

Content Insights tab
That's it for now…
We hope you've enjoyed the latest updates and we look forward to delivering increased value in our December release. For those celebrating Thanksgiving this week, we wish you a happy holiday from everyone here at PathFactory. We're thankful for our amazing customers and can't wait to gift you more improvements and innovations this holiday season.