If you're seeing visitors in your analytics that should be excluded you should check the following:
Do you have the show excluded visitors box checked?
If so: deactivate the radio button.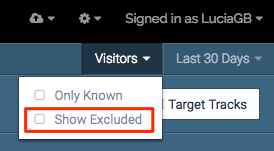 Show Excluded radio button
---
Are you relying on an email domain or address exclusion (and no IP exclusions)?
If so: follow one of the options below to ensure your visits are excluded, and consider adding IP exclusions.
---
Is a visitor who should be excluded appearing in your analytics?
*how would a client be able to CHECK if this is the case?
Email address and email domain based visitor exclusions are applied according to what we know about the visitor at the time the session is created. This could (in rare situations) result in the following scenario:
A visitor with an email address (or email domain) that is not in the exclusions list engages with the platform
This creates a session that is not excluded
Later, the same visitor de-anonymizes themselves again (via a new form fill, query string, etc.) with an email address that IS in the exclusions list
The session isn't excluded from analytics because it was not excluded from your analytics at the time the session occurred.
Since the platform always shows the latest identity of a visitor cookie, this will result in information displayed in analytics under an email that looks like it should have been excluded.