You can tag your VEX sessions with language, topic, persona, industry, business unit, and funnel stage information. Tags help you organize your sessions, while also letting visitors filter sessions to find exactly what they're looking for.
Create tags
Before you can add tags to your sessions, those tags must already exist in the platform.
All the tags, except for language, are created and managed within

Gear > Content Tags. Users with create/edit/delete access to this section can add new tags for topics, business units, personas, and industries. Read Create new tags for more information.
The language tag list is based on your different language configurations within

Gear > Language. To add the language option you want available as a tag, add it as a new configuration. It is best practice to then update each tab within the configuration as documented in Using languages.
Add tags to your VEX sessions
To tag your sessions, you need to have created a VEX event and all of the sessions. If you need more information on either of those topics, read Create a virtual event and Add and configure sessions. Once you've created the event and sessions, continue to the following steps.
In the main navigation, select Virtual Events.
Locate the event you're editing and select its name.
Select the Sessions tab. A list of all existing sessions for this event appears.
Find the session you wish to tag and select Edit tags.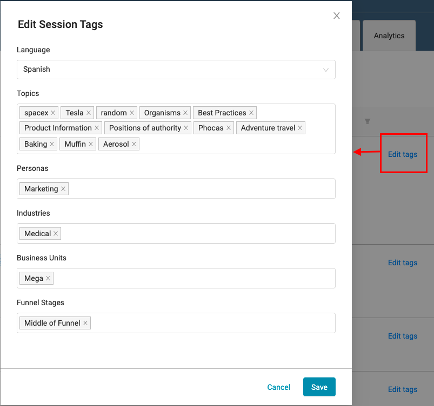 On the Edit Session Tags dialog, select each field to add tags until you're happy. You can search within each field to filter the options.
Select Save.
Repeat this procedure for each session you would like to tag.