Release H is now live! Our team is working hard to deliver some large-scale improvements in the coming months, but we're still eager to provide you with new and improved functionality in the interim. Browse through our improvements to relevant keywords and recommendations within Website Tools, filter updates within Explore, and more.
---
Core Platform
NEW:
Confidence filter for segments
Further increase the accuracy of your segment routing within PathFactory by leveraging the new 6sense 'Confidence' filter option in the standard rules list. You can select from Low, Medium, High, and Very High when defining this criteria. Navigate to the cog menu and select Segments to edit or create segments. From there, select Confidence in the standard rules Category menu.


---
Marketo custom data objects
Looking to test the data flow for your Marketo custom data objects? Now you can easily choose to fire Marketo custom data objects for excluded visitors in the platform and see how it appears in your Marketo instance. This means you don't need to take additional steps to create test emails or log out of your VPN. You can access this setting in Organization Settings, under the Marketo tab.
---
PDF viewer fallback
If your team leverages the PDF viewer fallback, this update is for you! You can now set an organization-wide default to control the PDF viewer fallback. All new PDF content uploaded will adopt the organization-wide setting when initially added to the content library. This feature saves you from turning on the fallback for each individual PDF asset moving forward. This setting will not apply retroactively to existing PDF assets in your library.
To turn on this setting, go to Organization Settings, select the Settings tab, and select Turn on PDF Viewer fallback.
---
Campaign Tools
NEW:
Explore page language filter
Visitors are always looking to fine tune their journeys with your content through flexible search and filter options. With the addition of a language filter you can now apply to your Explore pages, your visitors now have even more ways to get the content they care about.
---
Microsite landing page customization
Customize your microsite landing pages even more with description settings at the track block level. You now have full control to mix and match the track blocks with and without descriptions, rather than being locked into using only one option across your entire microsite.
To activate this feature, select the Landing Pages tab within your microsite and select Modify Page. For the carousel you wish to change, select

. The Settings modal opens.
Select Card Configuration and select Enable Description to turn off this toggle. The card descriptions will no longer appear.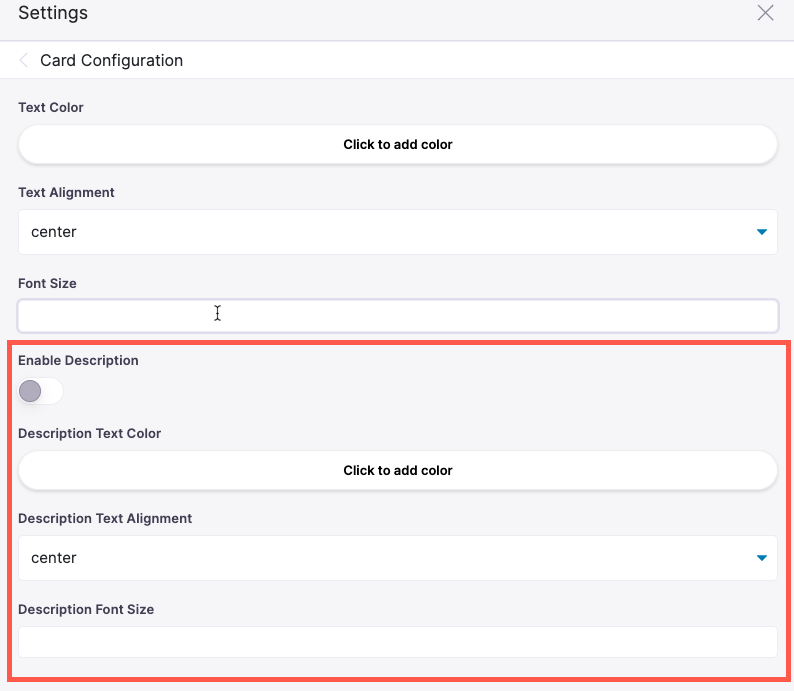 ---
IMPROVED:
Explore page topic label
You can now edit the external facing topic label for your Explore pages from the Languages Configuration screen. This lets you customize how this field is displayed to your visitors. Navigate to the Campaign Tools tab, and then select Explore.
---
VEX
NEW:
Add session descriptions on landing page cards
Now you can provide more detail and context for your landing page sessions by displaying the description below the card thumbnail and title. Within your event, on the Setup tab, select Show Description on Session Cards. The session descriptions will now appear on the cards.
Once the descriptions are enabled, you can further customize the card appearance. Select the Landing Pages tab and Modify Page. For the session block you wish to edit, select

to open the Settings modal.
Select Card Configuration to customize the font size, color, and alignment. You can also use the Enable Description toggle to turn off the session description for the entire block. With this setting, you can fine-tune your landing pages to mix and match blocks with and without descriptions.
---
Website Tools
NEW:
Identify Marketo cookies
In addition to PathFactory cookies, you can now enable Marketo cookie identification on website paths. This feature allows the tool to de-anonymize the website visitors by tying the known visitors in your Marketo instance to the Website Journey Tracking data. Path Analytics dashboards can easily be filtered to show data related to known visitors.

---
IMPROVED:
Automatic checking that URLs are valid
You do not want to recommend web pages which have been removed or deprecated to your website visitors. Now once every 24 hours, Website Tools checks that all URLs within a content pool are valid. If a page is no longer available, it will not be recommended to visitors.
---
Improved keyword analysis
Commonly occurring words found during content analysis which are not useful keywords (aka noise words) are now automatically removed from content keywords and phrases. Examples of such noise words could be the name of your company, title of the author, or document footers. This improvement results in more relevant keywords and better recommendations.

---
PathFactory for Sales
IMPROVED:
Add Microsite and VEX folders to the Chrome extension
The PathFactory Chrome extension can now include your VEX and microsite folders. You can easily set up folders for your Sales team that include relevant event and microsite content for them to share directly with prospects. Strengthen the alliance with your friends in Sales in just a few short clicks!
To add the folders to the Chrome extension, you must be a PathFactory for Sales customer. Go to Organization Settings and select the Sales Tools Configuration tab. Choose which VEX and microsite folders to include in the Chrome extension view.
When using the Chrome extension, the folders appear in the left sidebar. When viewing microsite folders, if you select View Contents, you can then filter by track to see all content associated with that track specifically.
---
That's it for now…
We'll have more exciting changes and improvements next month.