Introduction to Content Tags
PathFactory helps you organize your content by harnessing the power of tagging. Mark your content in ways that are meaningful to you, and use these tags to efficiently find the content you want when building content tracks.
---
Where are Content Tags?
To access your Content Tags, click on the gear icon and select Content Tags.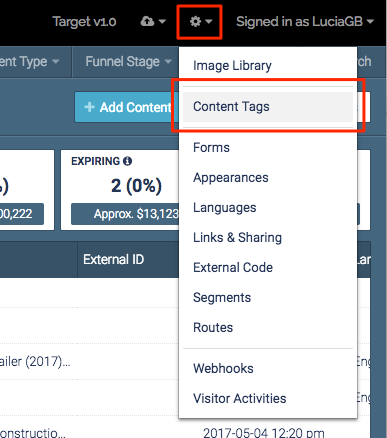 Content Tags menu
---
Why do you use Content Tags?
Content tags help you quickly sort your Content Library to find assets with particular attributes. For example, you can sort your assets by language, funnel stage, or topic, making it easier and faster to find what you need when building content tracks. Being able to create tags allows you to mark content in ways that are tailored to your business objectives.
Some features of the PathFactory platform allow you to make Topic and Content Type tags visible to visitors. This allows visitors to self-select the content that they find most interesting and relevant.
Content tags also help you get greater insight into your content analytics. Aggregating data according to various content tags can illuminate average view times per asset type, or which content types have the best click-through rates.